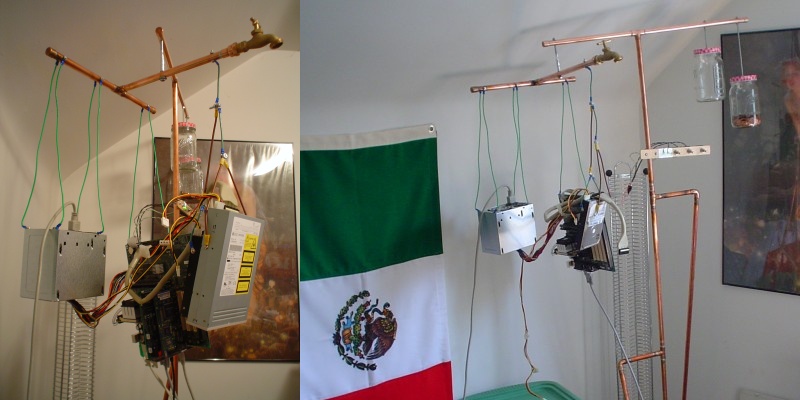 ---
[Update 06/01/04 - 22:45:59]
Calder-A has been turned into
this
.
---
Alexander Calder would have enjoyed this.
After returning from my travels in Mexico and WaDC/NYC/Boston, I decided to get serious and finish a project I'd backburnered for two years: Building the support frame for Calder-A.
The machine specs are:
Gateway 2000 Tolstoy (Intel) Motherboard. (Part No. 4000431)
Celeron 300A on Slotket.
256MB PC100 SDRAM.
Onboard NV3T (Riva 128) AGP Video.
Onboard Ensoniq ES1373 Audio.
RealMagic Hollywood Plus MPEG2 Decoder Card.
NetGear FA310TX 10/100 Ethernet Card.
Aureal Vortex 1 Audio Card.
Maxtor 20GB IDE Drive.
Ricoh MP9060A (P.O.S.) 1st-Generation DVD/CD-RW Drive.
250W ATX Power Supply

~300 penny counterweight. (and counting...)
The frame specs are:
20 feet of 1/2" copper piping.
nine 1/2" copper tees
eight 1/2" copper end caps
two 1/2" copper elbows
3 paint sticks (for the switchboard)
1 copper fastener
Oh yeah, in the right hand image above, the computer doesn't actually lean like that. I kept everything as orthogonal as possible during the soldering process and it's just a trick of the webcam optics that produces the visual warp.