Last visited:
29 August 2019
Location:
Erlenstraße 19, 12167 Berlin
Verdict:
This place is dope as hell. I'd take my friends and family here any day of the week.
I missed out on this place the first time my friends went there, and made sure to join for the next round. We headed down on a warm, late-August evening. The weather forecasts had been all over the place that week, predicting thunderstorms every day, which never appeared.
Anyways, we ordered a wide assortment of dishes. I would have to say a number of the vegetarian dishes did not really hit the spot for me. The meat dishes, on the other hand, hit it out of the park. These are easily some of the best versions I've had in Berlin.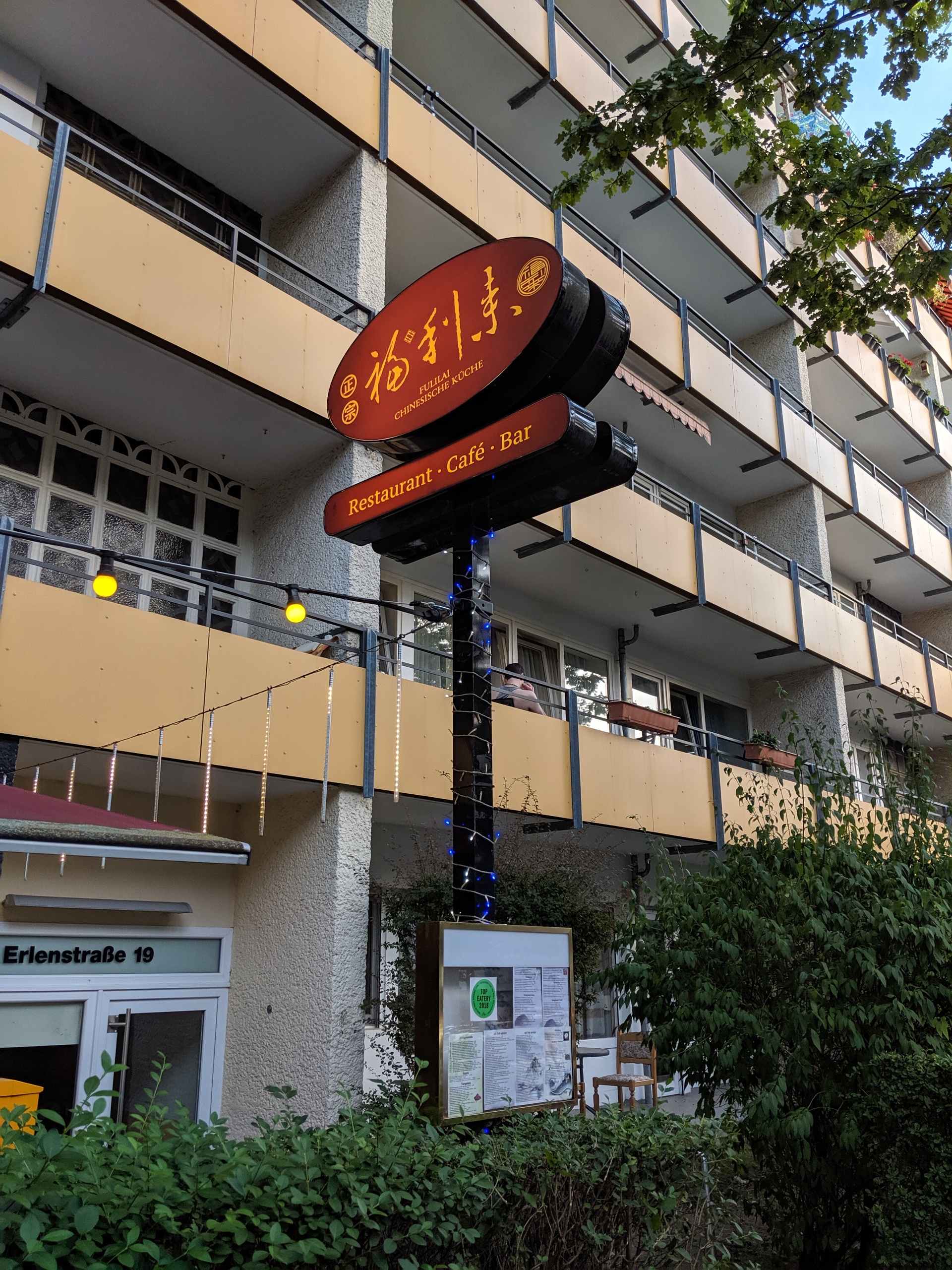 First up, the ma la hotpot with pig's blood and intestines. Mmm, delicious! There's something about offal that I find extremely savory, in a way that eating a straight-up steak is not. The heat of the reconstituted dried chilis combined with the numbing effect, in this case provided by green Szechuan peppercorns, was very hard to beat.
Also, the opening amuse bouche of thinly shredded potatoes and seaweed tossed with vinegar and sesame oil was pretty good, a lighter touch than most of the versions I've had in other places.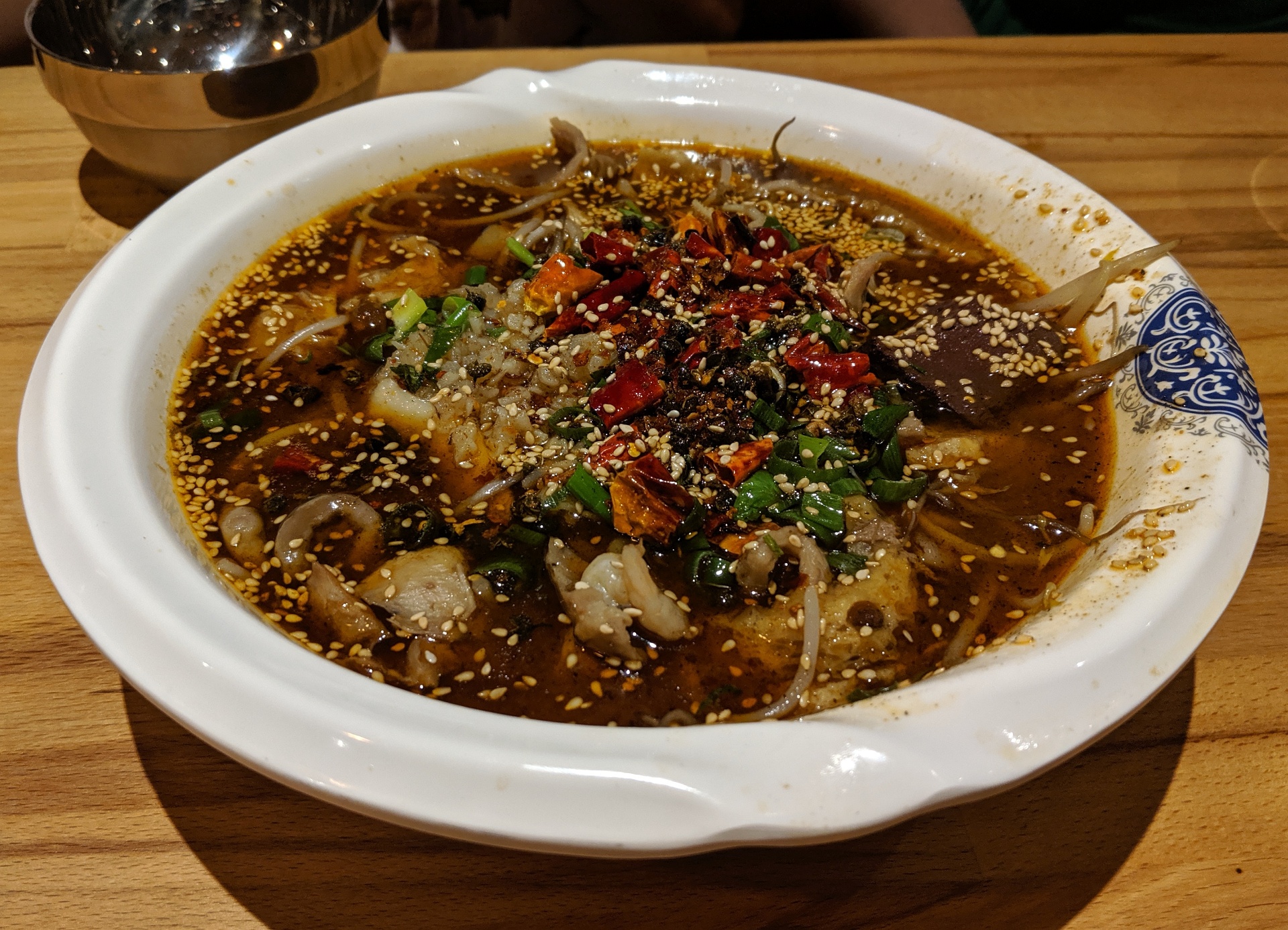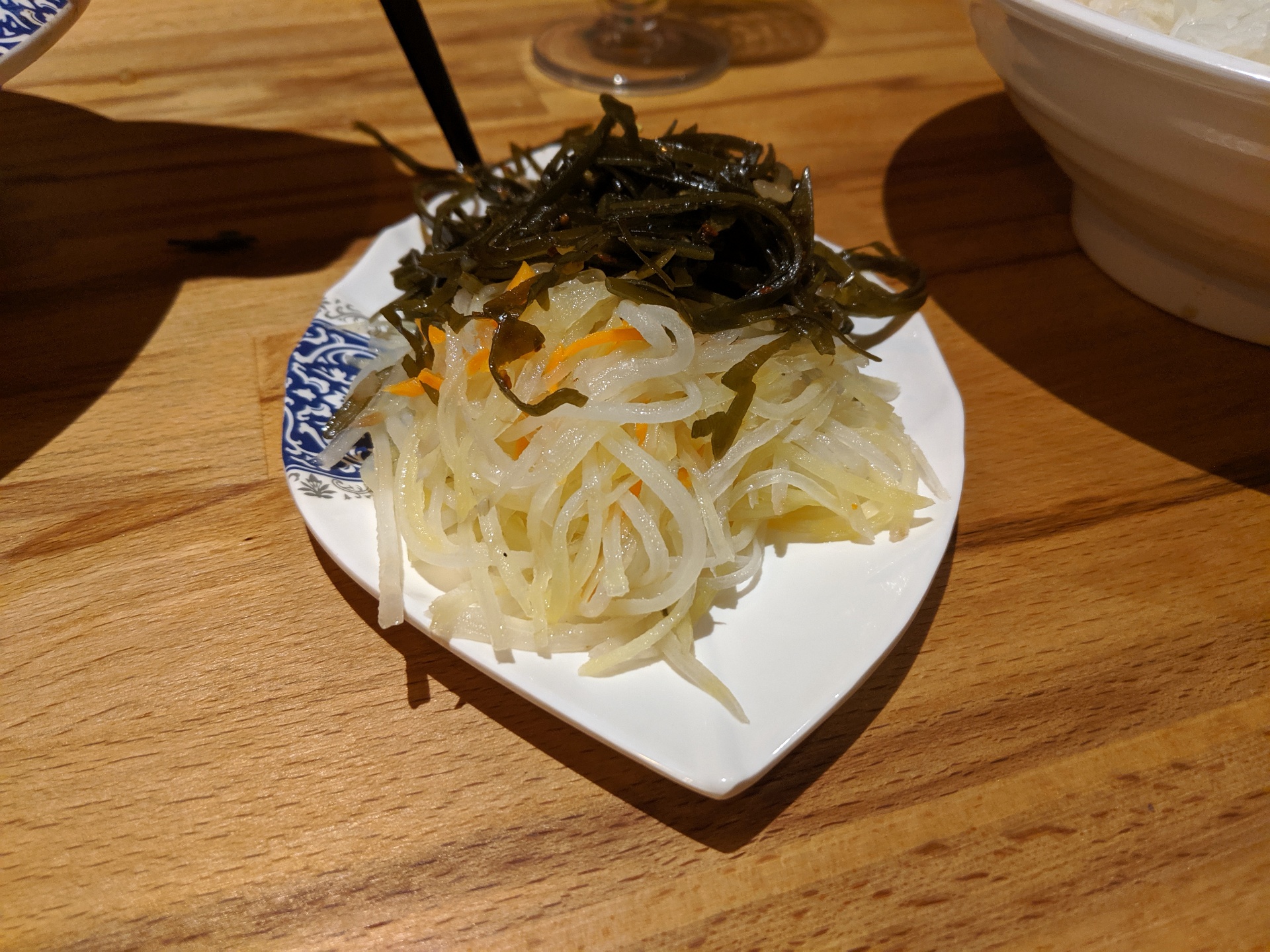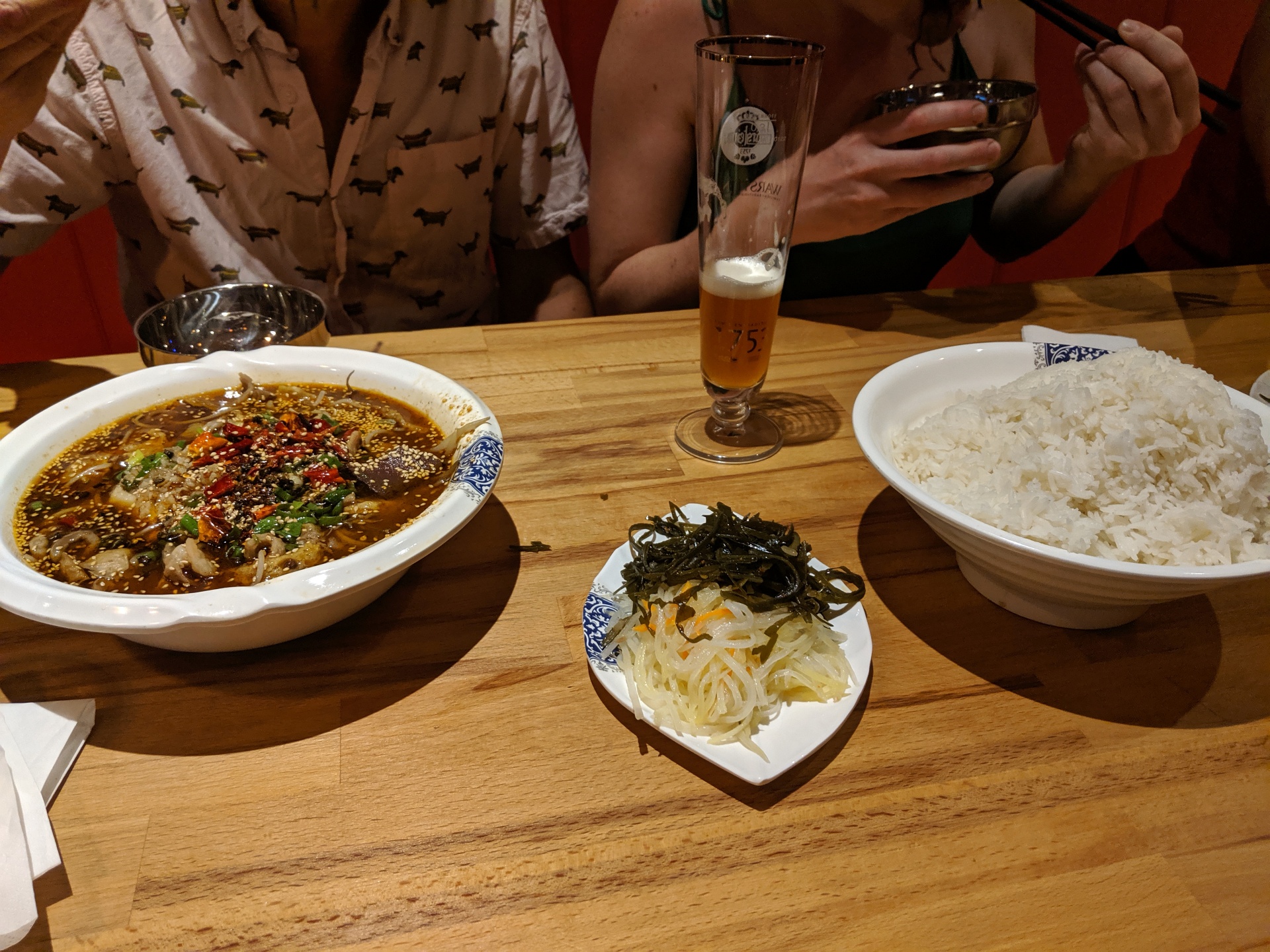 Among all present, the favorite dish was the hand-pulled noodles with ground peanuts and chili oil. This dish was unbelievable. The hand-pulled noodles were super tender but also slightly chewy, the sauce sublime. Highly recommendable.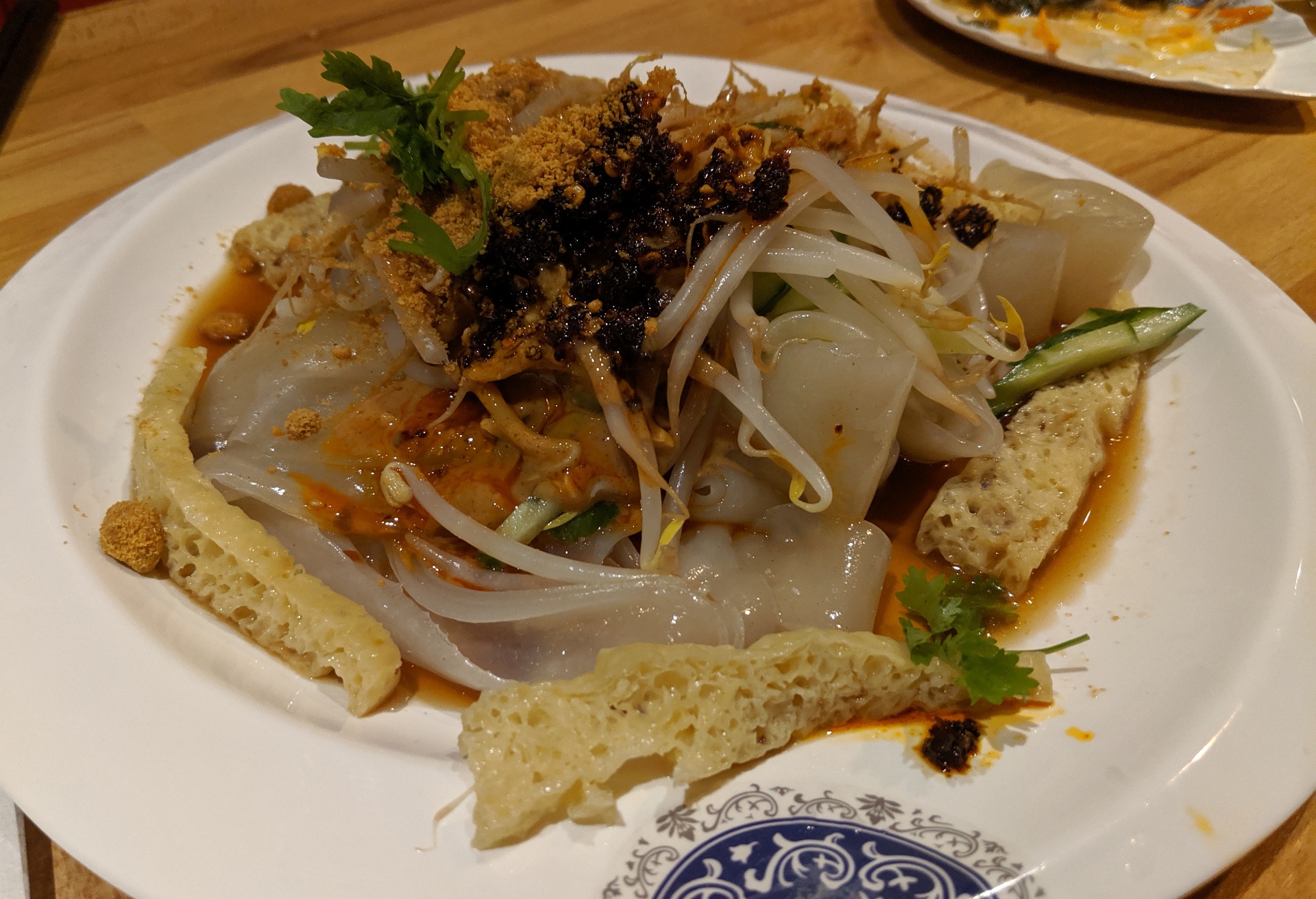 We opted for the grilled lamb with cumin, which in this case wasn't the rib version but the parts closer in to the vertebrae (I don't remember if there's a culinary word for this, but spinal-cut sounds a bit weird). Those present at the previous dinner here mentioned that the ribs were probably a bit better, and easier to eat. For my part, I ended up with a massive piece of lamb towards the end that took a lot longer to eat, and sat a while in my bowl waiting to be mowed down.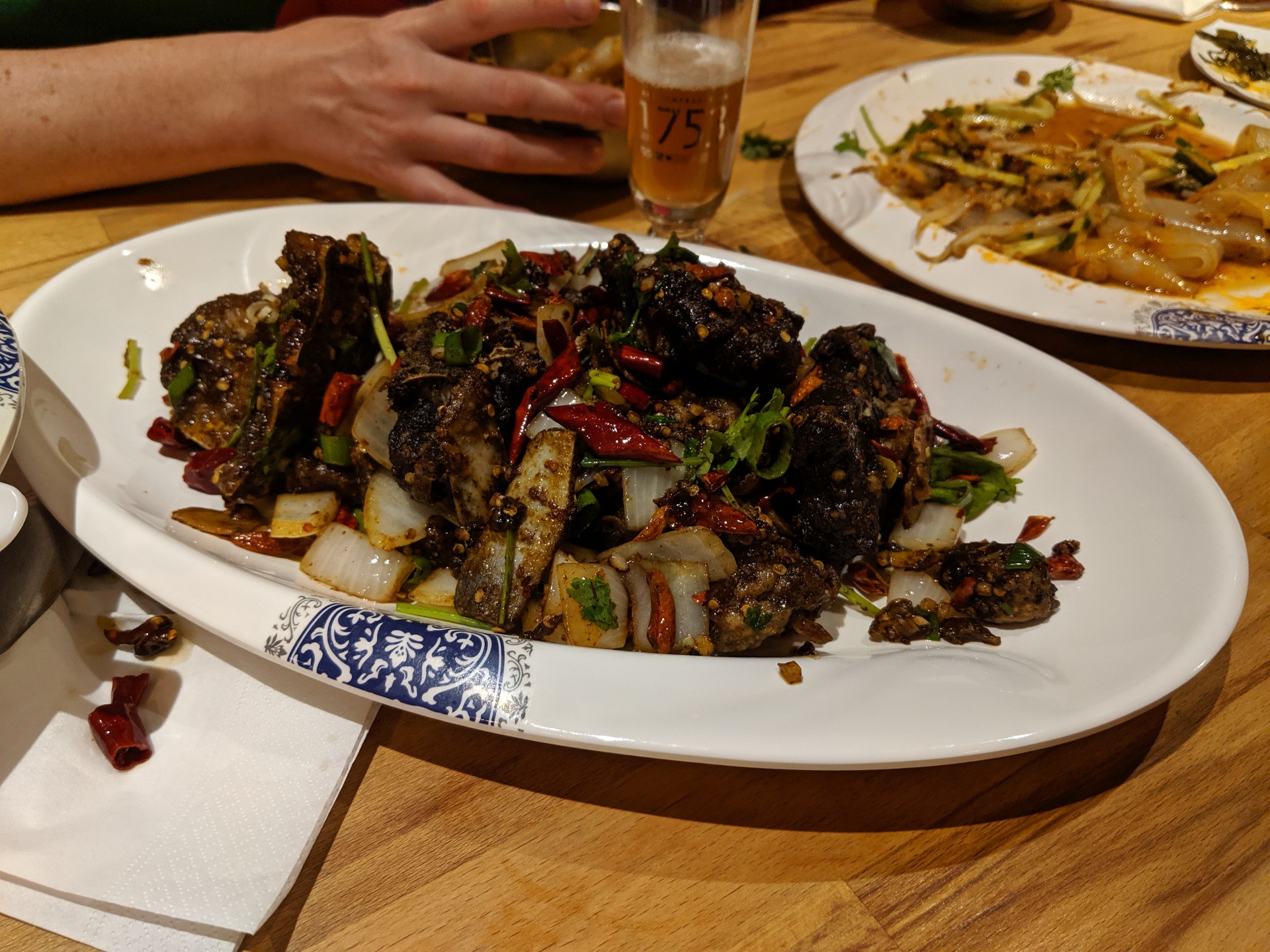 The salt and pepper fried prawns were delicious.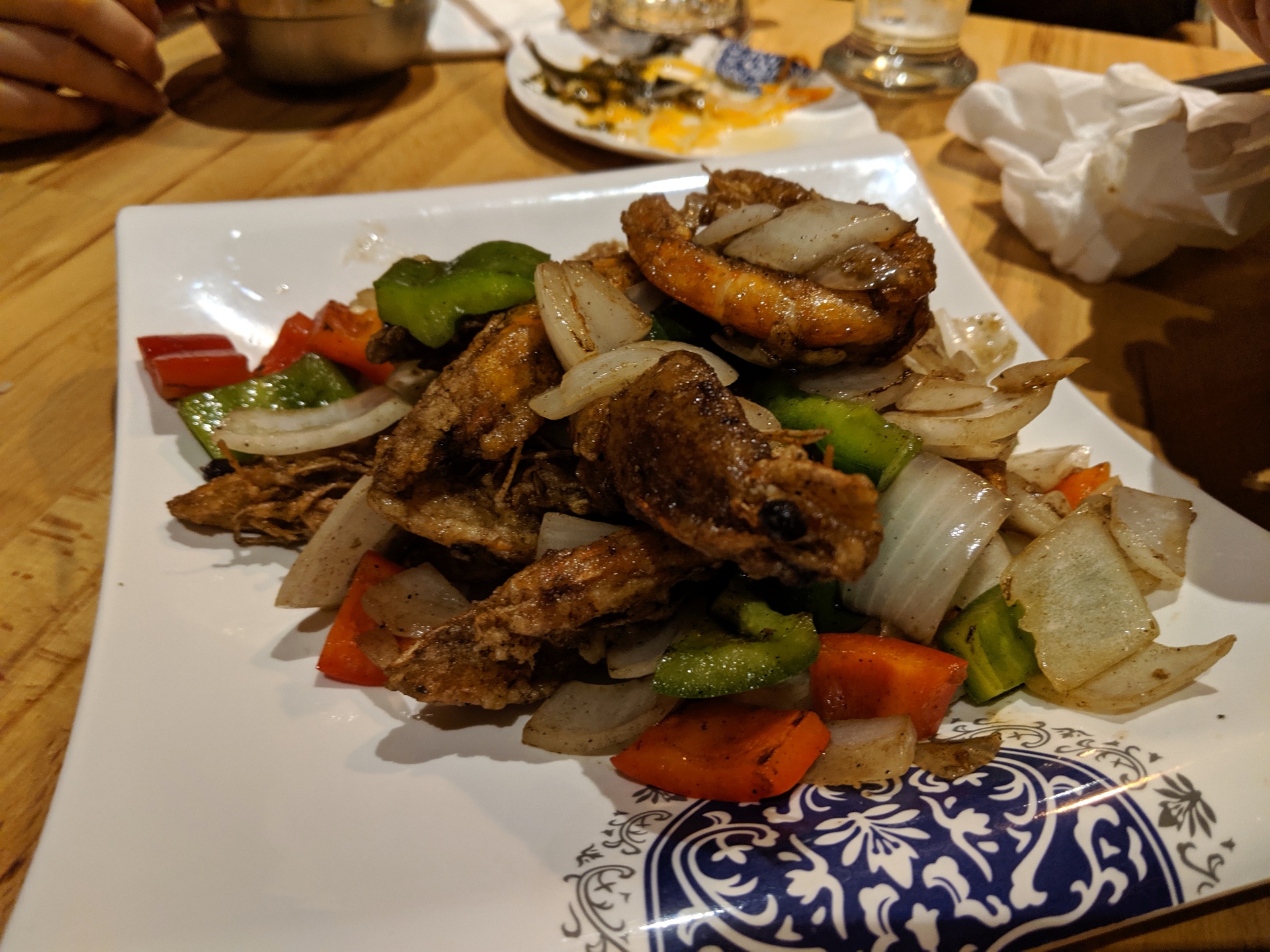 The wok-fried white cabbage had a smoky, fast-hot-fried wok hei on it that was utterly delicious. Though properly cooked, it remained super crunchy, which is not easy to pull off. We went back and forth about what kind of seasonings they used, and could not dig the secret out of the waiter.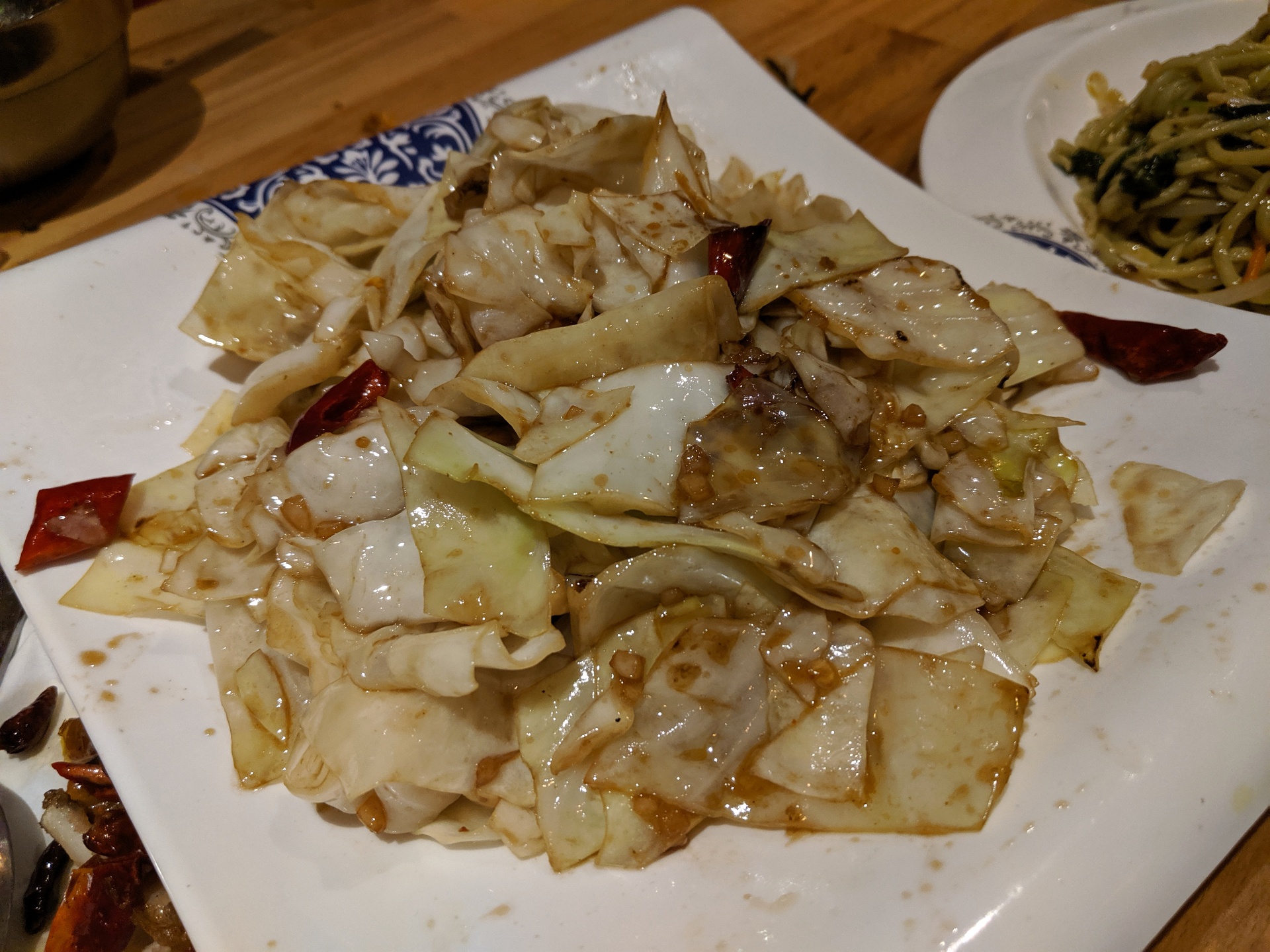 The following three dishes didn't do anything for me.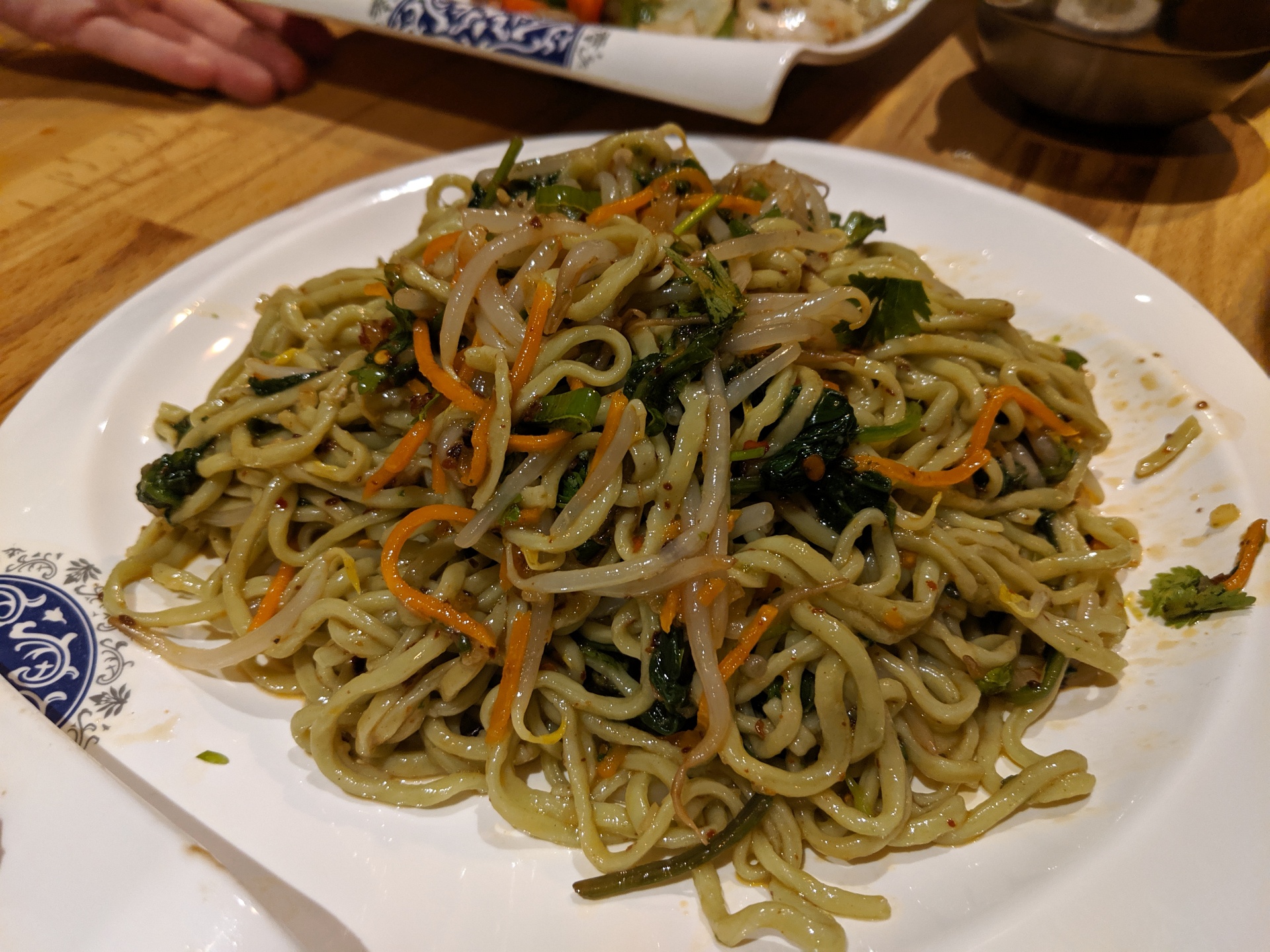 Veggie hand-pulled noodles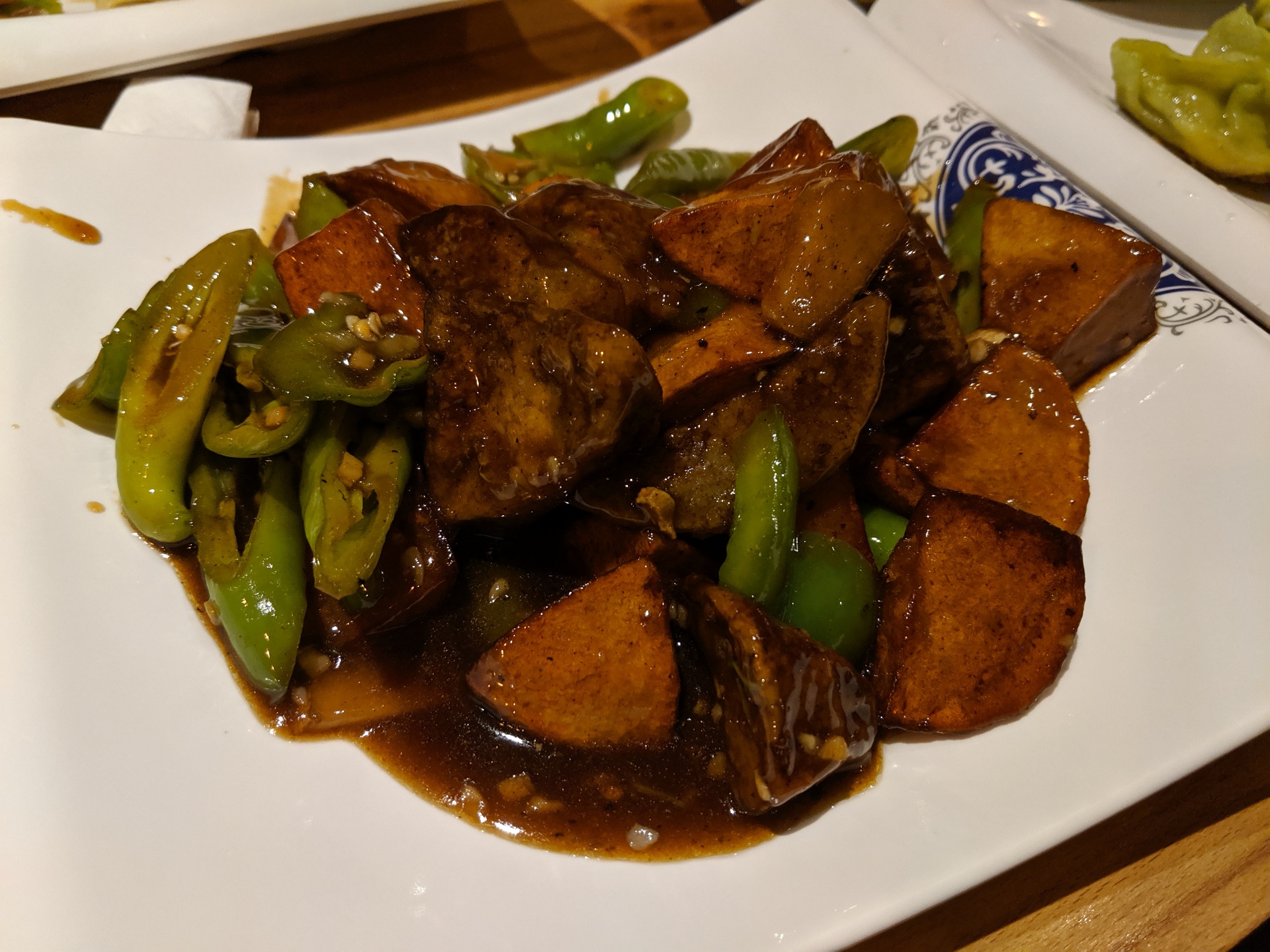 Fried potatoes, eggplant, and green peppers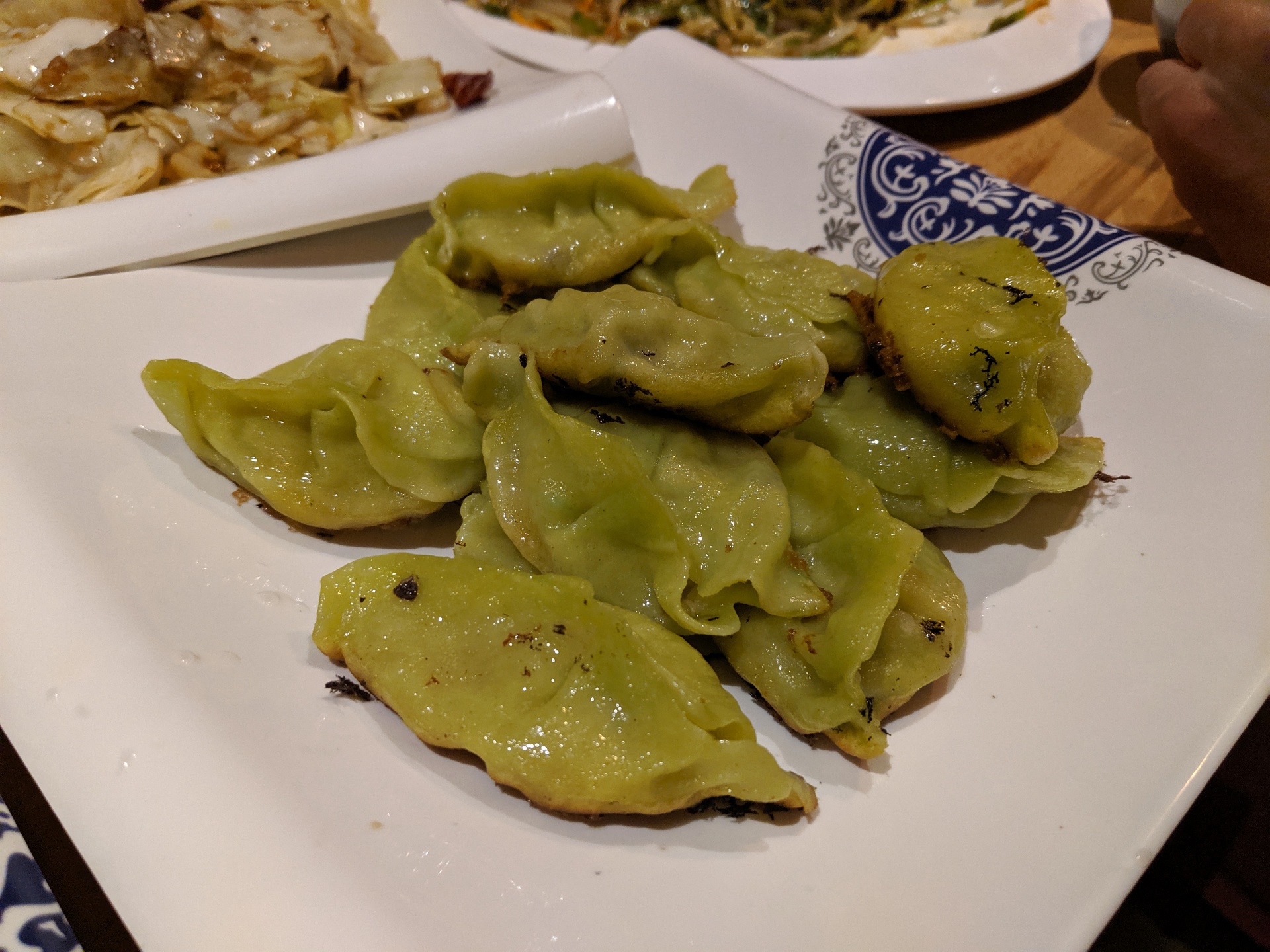 Veggie dumplings
Come here if you have a chance, it is well worth it. There were other dishes on the menu I haven't yet had a chance to try, but I'm sure there are some very good options in there.