So here's a little story about eBay, inspired by my recent attempts to buy a used laptop, from a (likely, highly unreputable) seller. I will name names.
I spent a good part of Sunday this week trolling eBay, searching for the best deal on a used laptop for some upcoming programming projects I have in mind. After researching and researching, digging up Thinkpad Personal Systems Reference books, and all sorts of other Manufacturer parts specs, I bid on a Dell from a user named "terbusinesses".
The bid was on item 200884952022, which was initially a Buy It Now auction with a $350 starting bid and a $400 Buy It Now option. So, at 12:26pm Central Time, I bid $350. And I received a confirmation notice from eBay that I was the High Bidder. It looked like this: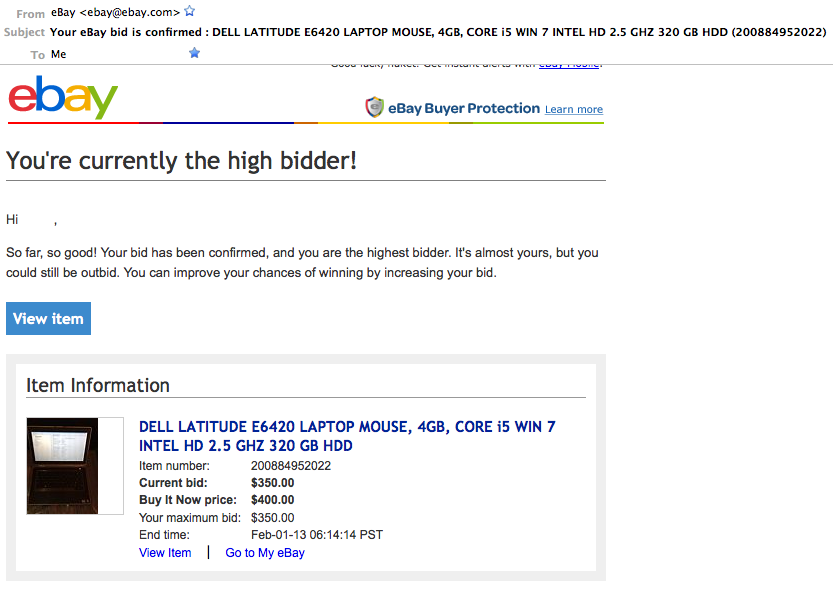 For those in the know, once a bid has been placed on a Buy It Now auction, the actual option to Buy It Now goes away, the auction becomes a normal highest-bidder-wins type of auction.
A few hours later, I'm browsing eBay, and notice that "terbusinesses" has listed the identical item that I'm bidding on under a second auction, item 200886900878, which is the same sort of Buy It Now auction with a $350 starting bid with a $400 Buy It Now option. I don't have a screenshot of this, but I know what I saw.
A few hours later, I get an e-mail: "eBay Bid Cancellation Notice – Item 200884952022 : DELL LATITUDE E6420 LAPTOP MOUSE, 4GB, CORE i5 WIN 7 INTEL HD 2.5 GHZ 320 GB HDD". It looks like this:

That's interesting, I think.
So somehow, this seller/scammer is hooking people into Buy It Now deals, and cancelling previous in-progress auctions. I'm not sure how this works on eBay's side, because I don't believe it should be possible to prematurely end a normal in-progress auction. And it certainly shouldn't be legit to list the same item twice, then accept only the auction result that you want. In any case, this certainly doesn't do much to build my confidence that the platform is fair, if this is a widespread thing.
The stupid bullshit reason that eBay gives when I look at the original item I bid on is: "This listing was ended by the seller because the item is no longer available.", which is crazy. Tell me that at 12pm today there were "2" of the same item being sold by someone, and now there are none?