It's been a few months since I built this, and it's been something I've been meaning to post for a while now. As part of a fairly large homebrewing rig, we bought two FastFerment conical fermenters, each capable of fementing about 25 – 28 liters / 7 – 8 gallons of wort and needed a good way to make them mobile, and get them up off of the ground.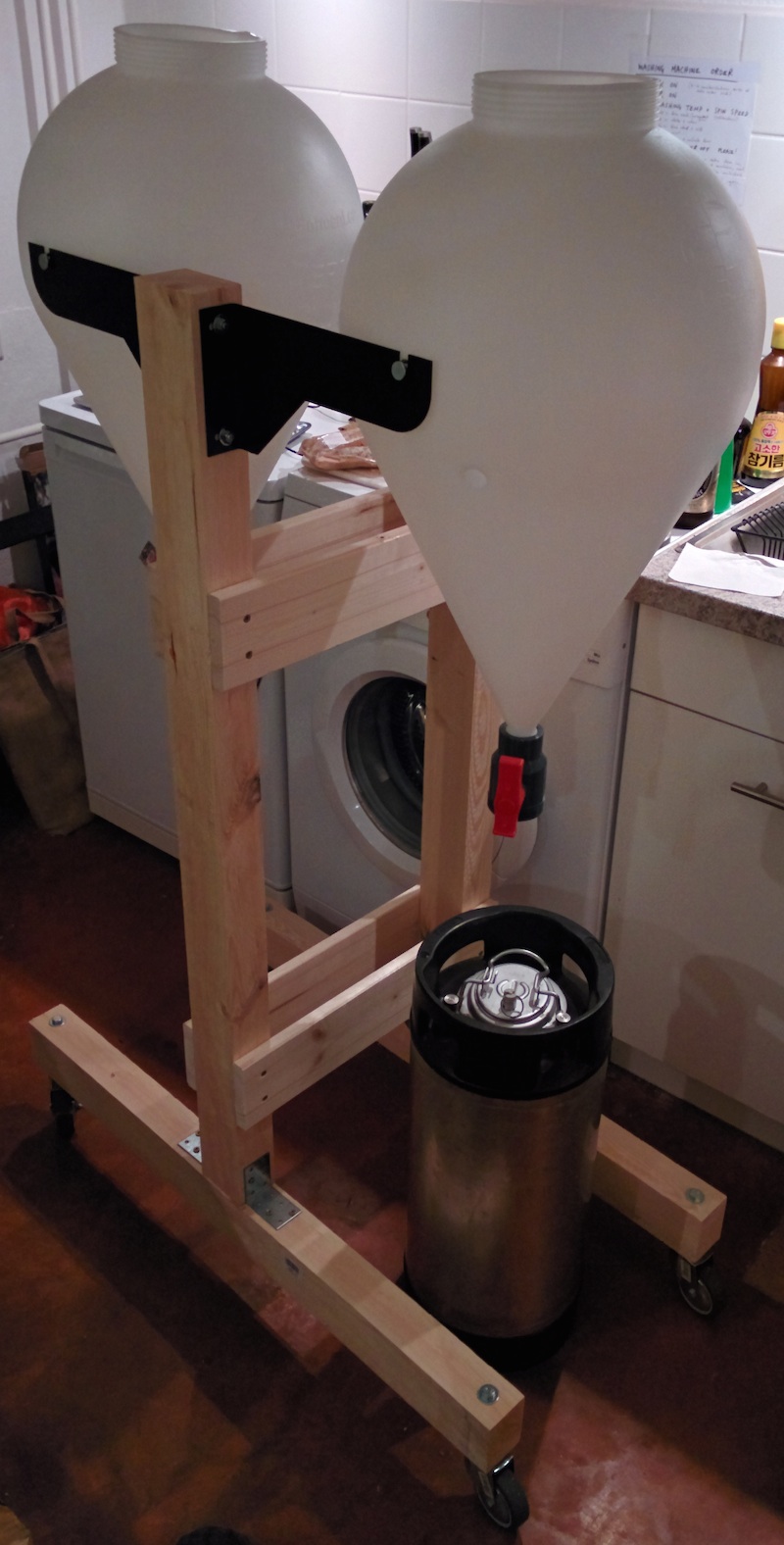 The initial configuration of the fermenters in my apartment left a lot to be desired. Low to ground, and very hard to unload into kegs, I decided to build a stand that would get the fermenters high enough off the ground to allow a standard Cornelius keg to fit underneath for racking.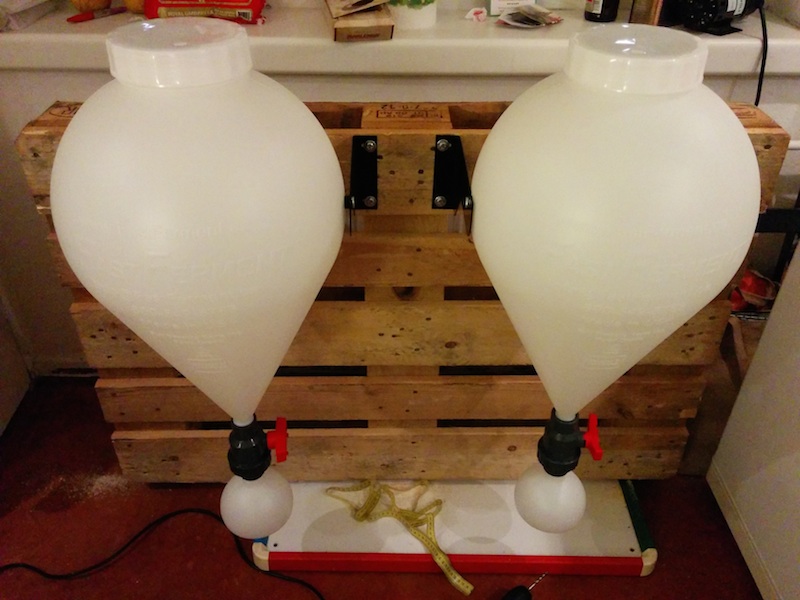 The dimensions of the stand are, roughly:
90cm base length, 45cm width, 110cm height, +10cm height of wheels.
The parts list for the stand is:
2 – 54mm x 74mm x 2m long framing timbers
1 – 20mm x 10cm x 2m long board, cut into 40cm segments
4 – angle brackets
40 – 4.5mm wood screws
1 – M6 x 1m long threaded rebar
8 – M6 steel washers
8 – M6 steel nuts
4 – 10cm wheels, each capable of carrying about 30kg
4 – bolts (I think M8), one for each wheel
4 – nuts, one for each wheel
12 – washers, 3 for each wheel, they nestled into the bearing wells on the wheels
The 2m long framing timbers need to be cut into a 90cm long section, and a 110cm long section. The 90cm long section forms the base of the stand, and the 110cm sections are the vertical supports. These pieces are joined together in an upside-down T-form.
Once two T-forms are built, you join them to one another using the 40cm long board segments. The weight of the filled fermenters is distributed across these board segments, and supported fully by the stocky vertical supports. Because the fermenters are mounted on opposite sides of the vertical supports, the weight of liquid is directed downwards through the supports.
The addition of wheels was also a huge boon when brewing, as it meant that we could move the fermenters around to be closer to the hot liquor tank, and meant we could keep the tubing shorter when transfering liquid into them. In addition, not having wheels means that once you load up 50 – 60 liters of wort, that those fermenters aren't going anywhere until you've unloaded them. This is not a problem if you've mounted the fermenters to a wall, but it's not ideal otherwise.